Ashleen lee - Head trainer & barn manager
Ashleen is a graduate from DePaul University with a bachelors degree in Business Management. She has ridden with many top trainers including but not limited to, Bucky Reynolds, Nancy Whitehead, Tim Goguen, and Larry Glefke as well as clinics with many top professionals including George Morris and Candice King.
In 2011 she became certified by the United States Hunter Jumper Association. She started riding at the age of 5 and has been fully involved in the family business for most of her life.
She began competing in Grand Prixs and International Hunter Derbies in 2010. Ashleen has led herself and many riders to both IHJA and Zone Championships. She has led clientele to tricolor ribbons at the Pennsylvania National Show and Washington International. In 2014 she was Zone 5 Horse of the Year in the 3'6" Performance Hunters with Speak Kindly and Grand Hunter Champion in 2013 and 2014 for the Illinois Hunter Jumper Association. In 2015, she was won the award for Developing Professional Owner award by the World Championship Hunter Rider program.
In addition to her riding ad training achievements, Ashleen enjoys taking part in every aspect of the barn. From the daily care of the horses, to the social media campaigns and website. In her free time she writes for the Freedom Woods blog and occasionally the Plaid Horse Magazine. One of her blogs, The Madness Behind the Inside Leg to Outside Rein, went viral with over 500,000 reads.
Currently, Ashleen compete in both the hunter and jumper rings, and takes the FW team to competitions across the country. She believes in both developing herself and her students to have a full understanding of the horse. Ashleen believes in developing riders and helping them reach their goals. She has a true passion for helping other young professionals go through the ranks and is has built a team filled with talented,passionate, and hard working young professionals. She believes that unity is strength. By selecting a group of professionals with different strengths and talents who work together as a team, they are capable of accomplishing and furthering the knowledge of other equestrians to a different level.
She strives everyday to further her clients and teams abilities as well as her own. She believes it is of the upmost importance to constantly improve her riding and knowledge, and her team to further assist the students of Freedom Woods.
Stephen foran- Trainer & Rider
Stephen grew up locally in Lake Forest, Illinois, riding and working in his father's stable. Throughout his junior years, he was very successful. Some of these showing highlights included, competing on the NAJYRC Zone 5 team, placing in the Grand Prixes as a junior, 2012 USHJA Emerging Athletes Program Winner, and invited and attended all major equitation finals
Shortly after aging out of the juniors, Stephen worked for top professionals in the United States, such as Missy Clark and Peter Wylde. On Wylde's advice, Stephen traveled to Belgium and Germany to expand his riding knowledge and ability. He spent two years working for prominent International trainers and horse dealers. During this time he rode and competed on horses at an International level and learned the ins and outs about investment horses from top people. For over a year, he rode and worked for Olympic coach and founder of IN Show Jumpers, Henk Nooren. IN Show Jumpers is one of the most successful show jumping investment groups in the world. Stephen spent his time there showing young horses and selling horses up to 1.45m on the Belgian circuit. Through Henk Nooren, he gained knowledge and experience in both riding and investment horses.
From there, Stephen spent the next six months riding for many dealers and owners. During this time he competed at CSI Grand Prix level and sold International Grand Prix horses and prospects to clients all over the globe including America, the Middle East, Asia, and South America. Throughout his time in Europe he competed at the top level and gained an extensive network of top professional and dealers.
Stephen spends most of his days at the barn working with the horses using his extensive global network and knowledge of working with young horses through Grand Prix level. He also enjoys teaching and sharing his knowledge with our students.
Chelsea James - Trainer & Rider
Chelsea James grew up in Southern California. She began riding at the age of four, and began competing when she was twelve. Throughout her junior years, she did everything she could to get more riding time. She groomed at shows and worked summer camps to pay for showing and to lease a suitable horse for finals.
In 2005, she placed in the top 10 at the local Junior Finals. In 2006, Chelsea and her pony were West Coast Pony Finals Large and Grand Champion; as well as LAHJA Pony Medal Reserve Champion. During her junior years, she spent all her time at the barn and shows and catch rode numerous ponies and junior hunters for prominent trainers on the West Coast. Chelsea rode in the Emerging Athletes Program its inaugural year. EAP takes the top percentage of riders from the clinics all around the country to participate in regionals. Chelsea was chosen to ride at regionals. Throughout her riding career, Chelsea has ridden with many top professionals including; Melanie Taylor Smith, Suzie Hutchinson, Bernie Traurig, and George Morris.
After her junior years, Chelsea became a professional. Over the last ten years, she has worked at prominent show barns on the West Coast and has experience teaching novice riders through the Big Eq. She also has experience showing young hunters through 1.30m jumpers.
Chelsea recently moved to Chicago in the Fall of 2018 and joined the Freedom Woods team.
Julie Foran Rebarchek- Trainer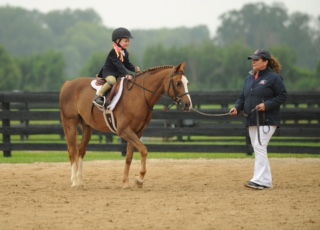 Julie is the newest member to our team and began working at Freedom Woods in June of this year. She has extensive experience teaching students of all levels. From nervous first timers to students showing competitively, she is focused on building rider's confidence and helping them set and reach their goals.
Julie began riding at the age of 9 when she attended summer camp, coincidentally the same barn that is now Freedom Woods. She rode competitively in the Junior Hunters, Equitation, and the Amateur Owner divisions. Julie enjoys sharing her passion with students and makes sure that the rider's time in the saddle is rewarding, exciting, and enriching.
Julie brings with her decades of experience. She has started, managed, and operated, both lesson and showing programs at the former Shadowbrook Farm and Liberty Farm alongside her family. We are excited that she can continue her legacy here, working alongside her nephew Stephen Foran to continue to share her knowledge and build our team.
In her short time here, she has already developed a strong group of riders. Her passion for both the horses and students is evident in every lesson. We are thrilled to have her on our team.
Alexander Lee - Trainer
Alexander Lee is a graduate from Le Cordon Blue with an associates degree in Culinary Arts. Alex grew up around his family's stable since he was seven years old. In his junior years, Alex was captain of St. Johns Military Academy's equestrian team. During this time he showed extensively on the Wisconsin Hunter Jumper Association Circuit. After high school, Alex immediately jumped into the family business creating his own team of riders who rode competitively at Northern Illinois Hunter Jumper Association Shows and local 'A' circuit shows. After a few years he took a brief break from the horses to go to culinary school. After working the restaurant scene for a short while he decided horses and teaching is where his passion is. Alex has been back working at the family business for the last three years and prides himself on a strong base of horsemanship. He spends his time developing his riders and running our camp programs.